Marquee Hire
Our range consists entirely of aluminium framed clearspan structures, thus removing the need for space restricting central poles and external guy ropes. Marquees may be sited adjacent to, and used in conjunction with buildings. Modular increments in length for each standard width of structure offer many permutations of size. Layout shapes (eg L, T, H) may be achieved to suit your site requirements.

The Fiesta system maximises the available space without detracting from the natural surroundings. This form of construction means that in most circumstances we are able to erect marquees abutting buildings.

Fiesta Marquees are of the clearspan framed type. There are no ugly guy ropes and stakes to require extra external area or to create possible dangerous obstructions.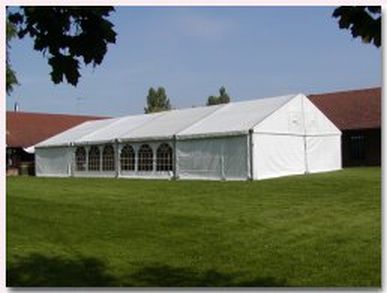 The need for internal supports within each structure is also obviated. This allows freedom to lay out your furniture without restriction. Framed construction enables us to build marquees on paved or hard surfaces as well as grassed areas often covering swimming pools, plants, rockeries and, in certain situations, even flat roofs.

An extensive range of coloured internal linings and finishes are available in order that you may personalise your event.
We supply flooring, thermostatically controlled indirect warm air heating and a variety of lighting options.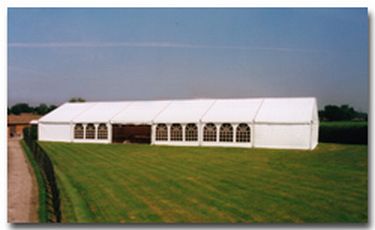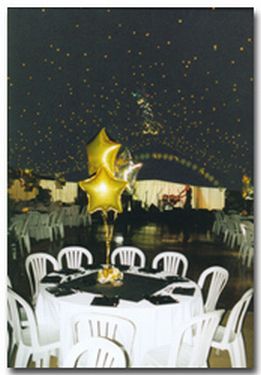 Please contact us to arrange a site visit or make an enquiry about marquee requirements.